A huge library with no required attribution
WeVideo Essentials™ contains over 1,000,000 licensed and royalty-free videos, images, and audio clips from which to choose, available to the users of Education and Business plans.
"Royalty-free" means you can use any Essentials media within the WeVideo editor, and then post your completed stories to any website without risk of them being pulled down due to copyright protection. You are licensed to use the media, and there is no required attribution. Consider all the videos, images, and audio in the Essentials library, yours to use in the WeVideo editor as you please.
Trial
While Education and Business plan trials can test drive media from this library, edits cannot be published until you upgrade to the Education or Business paid plans.
Finding the right clip for your needs
This huge library of assets to choose from is daunting, but you don't have to look at them all at once. Search for the specific media you want, and filter through the returns to narrow down the results, finding exactly what you're looking for. Look for the tab with the ⭐.
Searching media
Simply enter your terms into the Essentials library search bar - type "pizza", and the library is populated with pizza. Voila! Pizza themed music? You bet.
| | |
| --- | --- |
| | Videos have their duration visible in the upper right corner of their thumbnail. |
| | Images do not have any time display. |
| | Audio contains a placeholder waveform until dropped on the edit timeline. |
Not finding what you need?
Generalize your search
Sometimes you won't see anything in the library from your search. Perhaps you're looking for footage of someone who is "loquacious." Unfortunately, our library currently contains none tagged as such specifically. Instead, try using more generalized terms like "talk" or "talking", and see what comes up!
Use modifying terms
Think of modifiers as adjectives for your search term. For example, in your story are you attempting to stir someone's appetite with pictures of pizza, but not finding your favorite toppings? Just look for them too! Try "pepperoni pizza," or "vegetarian pizza" for more specific results.
We currently have no imagery of pineapple pizza as it's a hotly debated topic, and some people believe pineapple doesn't belong on pizza. We'll let you know when this changes.
Filter by category
There are three main media types in the Essentials library. These are videos, images, and audio. If you're specifically looking for only one of these three types, you can filter them by category.
Enter your search terms, and click on the category drop-down menu. By default, the All category is selected, of course, showing all categories. Select Videos, Images, or Audio, filtering to see only those media types in your library.
You can filter before or after you've entered your search terms.
Refine your results
Your searches can be refined even further, depending on the media for which you're hunting. For example, you're looking for crowd sound effects for your pizza temptation video.
Search for "crowd."
Filter by Audio.
Refine to just show sounds effects.
Click the thumbnail to preview the refined returns, and pick what works best for your project!

These refinement options are retained for your new searches.
Although the example above was for audio, note that you can also refine your video and image searches.
Saving your favorites
Save your favorite media to use in all your projects. In other words, start making your own library from any of the stock media!
Adding your favorites
While browsing you may come across a video that'll work perfectly later in your project, or perhaps even a future project.
Click the heart icon on the thumbnail, and it'll be contained along with the rest of your favorites, displayed whenever you enable My favorites library.
Favorites clips are stuff you love. ❤️ is where you'll find those favorites you've collected.
Click on the heart icon to show all the favorites you've selected. Use any of your favorites as you would any other media.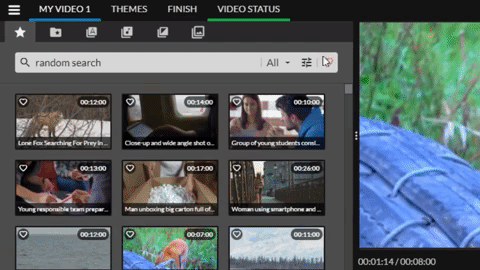 Removing favorites
To remove a favorite, simply click on its heart icon again. The next time you open the "My favorites" menu, the clip will no longer appear.

If you are presently in My favorites, remove the clip by clicking again on its heart until it is no longer highlighted. Note that it remains visible in the favorites library until you leave and return.
Reporting inappropriate content
We have nearly 1,000,000 media clips in our Essentials Library, and while we do our best to monitor all of the content to ensure it is appropriate, we really appreciate customer feedback when users do come across inappropriate material so that we can address it. If you come across content that you would like removed from your organization, please right click the clip in the Essentials Library and select "Remove and report".
General questions or concerns
Did you run into a bug? Is something not working the way it should be? Do you have a report to make? Please contact us at support@wevideo.com - we'd love to hear from you!

If you run into any copyright infringement issues, please contact our support staff and provide the following information
1) The link to the video on the service that provided you with the infringement notice (direct youtube link to the flagged video for example)
2) The name of the WeVideo edit associated with the flagged video
3) All the details of the infringement notice (timestamp of claimed track, name of track, owner of track etc)